City of Stars
Hi, friends! I'm sharing more than a little bit about my trip to LA, I hope you either find this entertaining or helpful (if you're planning a trip there). If you're just here for the dining recommendations I've included a list at the bottom of this post if you'd rather not sift through all my details. Enjoy!
We arrived in the evening, the sky blanketed in indigo, palm trees backlit by the glow of the moon. The warm March air filled my lungs and welcomed an unmistakable peace into my heart. In the midst of a dreary midwest winter, I felt the hope of warmth coming as LA became home the the last spring break I'd experience.
We stayed tucked into a quaint Airbnb a short walk away from Abbot Kinney. The back patio dim lit by string lights, inside- clean white walls and wooden floors, modern furniture and windows to throw open in the early hours of the west coast morning.
Each morning we enjoyed a fresh cup of coffee on the back patio as we prepared for our days venturing along Venice Beach, the Santa Monica Pier and Hollywood. Day one mainly consisted of aimlessly wandering in and out of specialty shops along the strip, as we waited for a table at the Butcher's Daughter. My personal favorites to visit: Le Labo, Cuyana, Will Leather Goods, among many other notable boutiques I neglect to remember the names of. The evening consisted of a bike ride from Venice Beach to the Santa Monica Pier- the bustle of locals along the coast at sunset was comforting. The sun hung low in the sky, coating all beneath in a brilliant glowing orange hue. The evening was topped off with Salt & Straw, the world's best ice cream if you ask me. Especially after living in Portland last summer, I couldn't resist the aroma of fresh waffle cones being made from down the street. Nostalgia was a major side effect.
Day two we used Turo to rent a car and drove out to hike to the Hollywood sign. It was a great workout and left us hungry for brunch. We headed to Beverly Hills to eat at Tarte Tatin Bakery & Cafe, a Mediterranean restaurant highly recommended by Kylee, a friend who lived in LA last summer. We cruised around this side of town enjoying the views of large fenced in estates, bougainvillea's spilling over their iron gates that kept curious travelers from nosing around. Of course took a ride down Rodeo Drive, a must for Pretty Woman fans or anyone visiting, really. That evening we ate at Gjelina on Abbot Kinney and had the greatest pizza. If you visit you must try the gruyere, caramelized onion, forage blanc, arugula pizza. It was absolutely delicious, 10/10 I am recommending to a friend!
Day three was our beach day- it was rather windy so we didn't last long before we called it an afternoon and headed to The Misfit Restaurant + Bar for happy hour drinks. We proceeded to follow up with sushi, and various appetizers at Sugarfish before heading back to our Airbnb. OH, and I must mention, we discovered Bird, electric scooters connected to an app on your phone- you simply scan a QR code after filling out some information in the app and you're able to ride these scooters wherever you'd like to for a few cents a minute, and when you're done you just leave the scooter wherever you'd like. We were hooked. We even got up extra early one morning to scout out enough scooters for all of us and rode down to Egg Slut for breakfast. Also highly recommend- I had the best egg sandwich of my life. Back to that evening… I met up with my lovely friend Rachel (check out her blog here!) for dinner and spent the evening at her adorable place in Santa Monica. The next morning I headed out to a Darling x Quilt event in the area where I connected with women of all backgrounds and experiences. It was so great to hear stories of those who have lived lives so differently than mine, and to connect over a common theme of body image was powerful.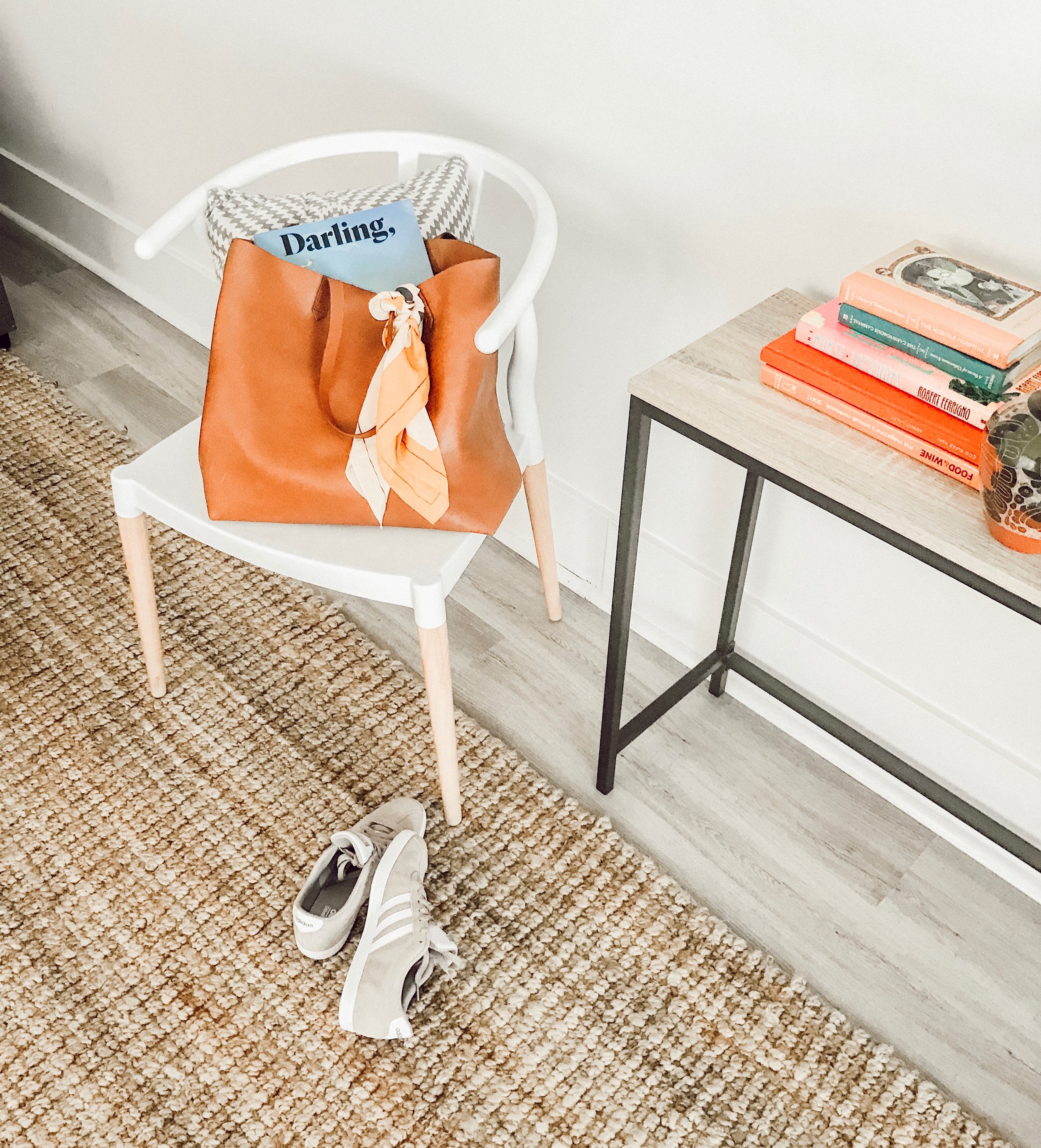 Day four we Ubered out to Malibu and spent a relaxing day under the sun before walking up to Malibu Farms for dinner. The view was beautiful, we were overlooking the coast around sunset complete with pink and blue skies and crashing waves on the pier. Inside was decorated with hanging plants, sailor knotted rope lights, white walls and wooden tables. If you really want to feel like you're on vacation, this is the place to visit. The food was great but a bit pricey (I had pad Thai), but between location and good company, it was worth every penny.
Day five we moved to an Airbnb in Silver Lake to explore another side of LA. Alfred became our go to morning coffee stop both days we were there. After our morning caffeine intake was taken care of, we headed downtown to eat at Sonoratown, one of the best and most affordable meals I had in LA. Any choice of taco satisfies, and accompanied with the fresh mango juice… mmm, I'm craving it now. Mexican food for the win! We wondered around the arts district, stopped in Alchemy Works, and a local gallery, and meandered in and out of other aesthetically pleasing shops in the area. We spent a few hours that afternoon at Ace Hotel's rooftop pool complete with refreshing cocktails and a view of the city. Kylee and I headed out early to get ready for the Darling Dinner in celebration of Issue 23 and women's history month. The dinner took place at Winsome, just a short drive away from where we were staying in Silver Lake. I have to tell you this was one of the best experiences I could have ever invested in. Dreams came true as I introduced myself to Sarah, the Editor-in-Chief along with other influential women on staff at Darling and admirable women attending. We had wonderful food prepared by talented female chefs in the area and discussed topics of imagination and anxiety over our four course meal. I have to admit, I hardly touched the food because I was so excited to be there. Overall the night was beautiful. There really is nothing like connecting with others, skipping the small talk and diving deep over a thoughtfully prepared dinner.
If you're in LA, or if you visit another city, I highly recommend finding ways to connect with other people there. There are always so many events going on- look into them! Don't just be content being a tourist, the greatest part about travel is immersing yourself in a new environment. You'll never regret getting to know the stories of those around you, and who knows, maybe you'll even have a place to stay when you visit again.
The final day we hiked to Griffith Observatory to catch a view of the Hollywood sign and attempt to live out our La La Land dreams. We spent the rest of the day following no real plan- we covered a lot of ground while in LA so we wanted to relish in our final hours of relaxation before heading home to finish up our last few weeks of our undergraduate careers. We found a spot that offered bottomless brunch (which you can find mostly anywhere in LA) and stopped by the infamous LACMA to explore the winding paths outside that lead to the Urban Light display. Before I knew it, I was headed back to LAX for my redeye flight.
My time in LA was just what I needed. A combination of relaxation and adventure. I hope my version of a "city guide" will offer helpful recommendations if you're visiting the area. I know a week is hardly enough time to get to know a city, so my suggestions really only scratch the surface of all this city has to offer. To say the least, LA has found a place in my heart and I can't wait until the day I'm able to visit the city of stars once again.
Places to eat:
The Butcher's Daughter, Salt & Straw, Tarte Tatin Bakery & Cafe, Gjelina, The Misfit Restaurant + Bar, Sugarfish, Egg Slut, Malibu Farms, Alfred, Sonoratown, Ace Hotel, and Winsome.