Denim: What You Should Know
It's no doubt denim has found its way into the closets of millions worldwide. In fact, 96% of U.S. consumers own at least one pair of jeans. On average, women own seven pairs of denim pants while men own six. I'm no exception, I currently have seven pairs of jeans in rotation. The global denim market by sales is around $56.2 billion (YES, billion) and that's saying something.
So, a just a quick rundown of one of your favorite closet staples:
Jeans were first patented in 1873 by Jacob Davis and Levi Strauss after Davis was asked by the wife of a local laborer if he could make a pair of pants for her husband that wouldn't fall apart. It's important to note, denim pants were already around, but the act of placing rivets on these pants for the first time created what we now call jeans. (Fun fact: jeans were first referred to as "waist overalls").
In the 1930s, Vogue magazine featured its first model in denim on the cover which hinted that jeans weren't just for the working man. By the 50s, teens embraced the blue jean trend and jeans were even banned in some public schools because they were seen as rebellious fashion. Then the 1960s- the start of the hippie age. Denim jeans were now a form of creative expression and freedom from structure. Denim jackets became popular as well- embroidery and sewn on decals became part of individualistic expression (sound familiar?). This carried through the 70s iconic bellbottoms and into the 80s when designer denim became all the rage. For those of us that experienced the 90s, we remember all the baggy denim and Canadian tuxedoes. From there we saw the rise of the skinny jean and today, we see just about every denim trend over the decades in the stores.
So, we clearly have a love relationship with these popular pants- but since we're on the subject I'm going to let you in on a few denim secrets.
Did you know one pair of jeans uses 3,781 liters of water in its full lifecycle (that includes growing cotton, to manufacturing to consumer care.)?
The "jeans capital of the world", Xintang, China produces nearly 200 million pairs of jeans per year. The factory boss, Li Zhongquan, said in an interview "wastewater is not recycled, but discharged", polluting the Pearl River and harming China's water supply and their ecosystem (read the full article here). In fact, the peal river was dyed a dark blue from all the denim dye runoff- and who knows what kind of harmful chemicals are running through this river?
Clearly, denim has a huge impact on the environment.
So my point is, we can do better.
Denim is going to be around most likely forever- so here are a few brands to look into to become more conscious consumers.
Levi Strauss & Co - So much to recap, but you can read about what they're doing here!
Everlane - Using only .4 Liters of water after recycling! They also claim that their 98% recycled water is clean enough to drink. And yes, I bought myself a pair.
Madewell - not only are they taking steps to improve their impact on the environment, but you're able to donate your denim to Blue Jeans Go Green to recycle into housing insulation (and get $20 off on a new pair of jeans! A win-win if you ask me).
With all this talk about denim, I thought I'd end with a forecast on denim. Here's what you'll see come Pre-Summer 2018:
A strong influence from a track pant is being integrated into classic denim as a novelty update.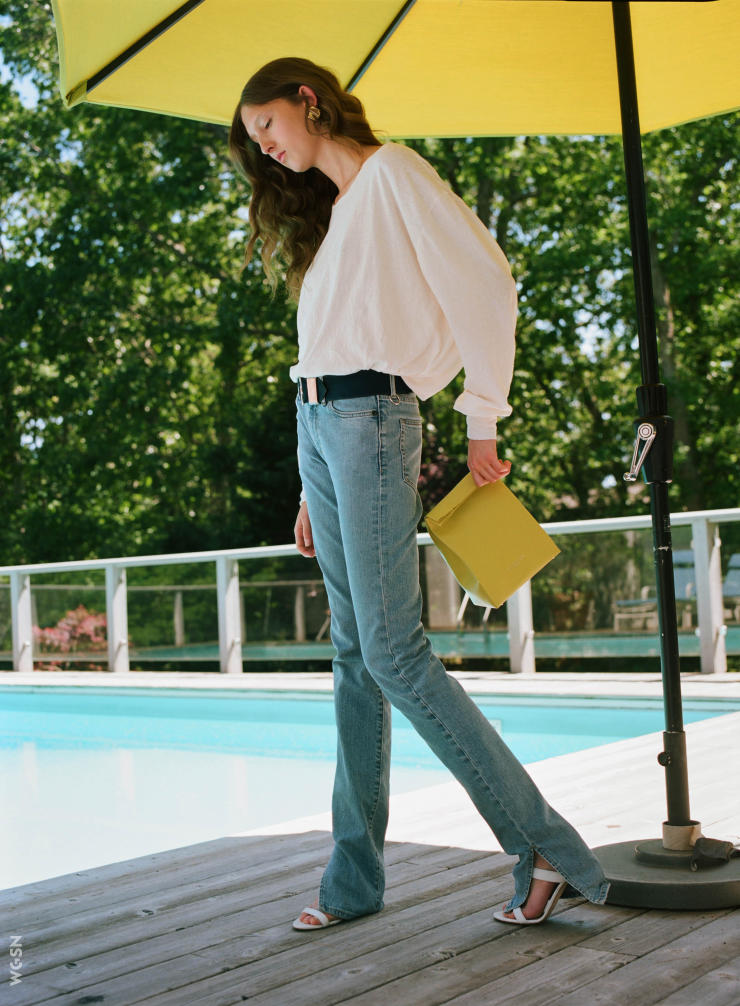 Flare jeans are being revisited in unexpected ways this coming season. Side seams are being released creating side slits that embrace a more fluid look.
Slouchy fit denim isn't going anywhere. Once again, styles borrowed from traditional menswear looks are continuing to influence designers' choice of trousers. Detailing such as raw and statement hems, oversized pockets and paperbag waists included.
Wide leg denim that hits just above the ankle will be around for yet another season. Of course, detailed hems will accompany this trend.
Think mom jeans, 70s flares, and vintage washes all in one pant- that's this key trend for S/S 18.
I hope you enjoyed this little lesson on denim. This is different than my typical blogging style, but I'd love to hear what you think. Would you like to see more posts like this? And my final question: What is your favorite denim trend right now?
Sources for research and trend analysis:
http://www.statisticbrain.com/denim-jeans-industry-statistics/
http://www.levistrauss.com/our-story/the-history-of-denim/
http://www.elle.com/fashion/shopping/advice/g25646/denim-through-the-ages/
https://www.liveabout.com/the-history-of-jeans-2040397
https://www.wgsn.com/blogs/premiere-vision-denim-spring-summer-18/#